Mechanic Two And Three Wheeler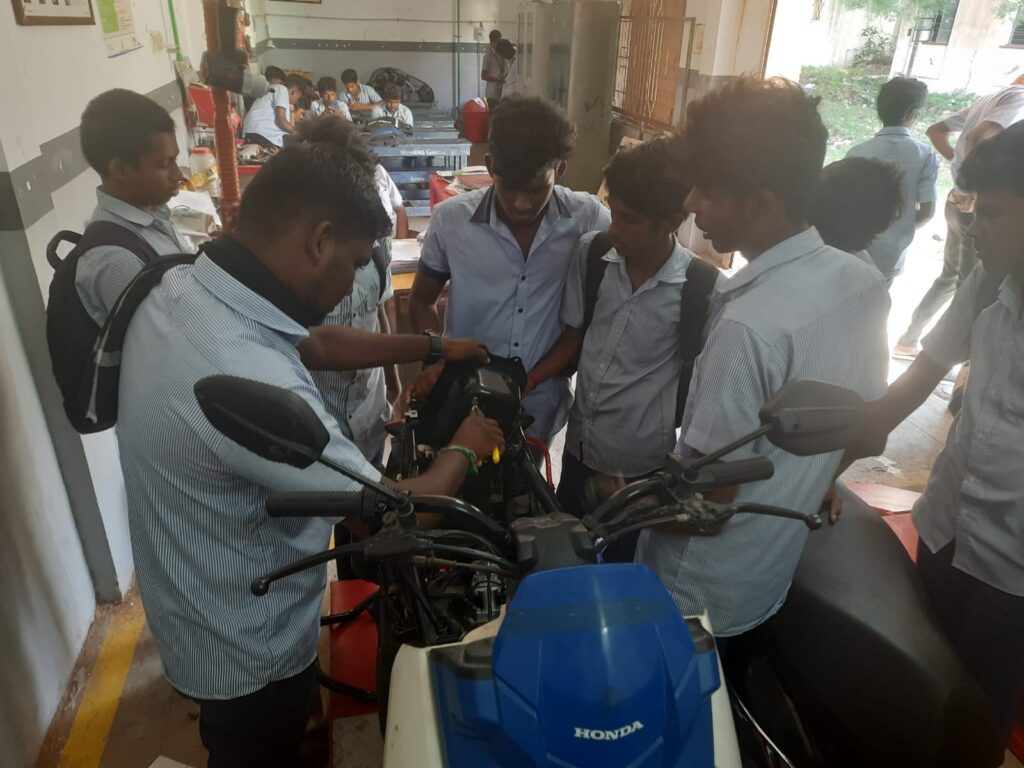 One Year - Engineering – NSQF Level -3
Professional Skill Attained by the trainee through practical training at ITI's
identification of tools & equipment, raw materials used
dismantling Engine of Two and Three-Wheeler as per given standard procedures
achieve skill on Overhauling of Cylinder Head, valve train, Piston, connecting rod assembly, crankshaft, flywheel and mounting flanges, spigot and bearings, camshaft etc
practice reassembling all parts of engine in correct sequence as per workshop manual
Perform troubleshooting of Excessive smoke, knocking or abnormal noise etc
Practice servicing of Fuel Tank and its components, repair and overhaul Steering and suspension system of three wheelers
overhaul brake system, transmission system and LPG/CNG fuel system of Two and three wheelers
Perform servicing and maintenance.
Specific Learning Outcome from the Trainees
Comply with environment regulations and housekeeping in the work shop following safety precautions. (ASC/N9801)
Check &Perform precision measurements and marking by using various measures and marking tools used in automotive work shop practices. (ASC/N1420)
Plan and Perform basic fastening and fittings operation by using correct hand tools, machine tools and equipments. (ASC/N1420)
Perform surface finishing operations in the given job. (ASC/N9423)
Construct electrical circuits and test its parameters by using electrical measuring instruments. (ASC/N1420)
Perform basic electrical testing in two and three wheelers. (ASC/N1420)
Perform battery testing and charging operations. (ASC/N1420)
Construct basic electronic circuits and testing. (ASC/N9424)
Join Components by using Arc & Gas welding. (ASC/N9425)
Inspect the Auto component using nondestructive testing method. (ASC/N1420)
Identify the hydraulic and pneumatic components in a vehicle. (ASC/N1420)
Check and interpret vehicle specification data and VIN, select & operate various service station equipment. (ASC/N1420)
Carry out the general servicing of two and three wheelers. (ASC/N1420)
Carry out Engine overhaul of two/three wheelers. (ASC/N9426)
Overhauling of cylinder head assembly. (ASC/N9427)
Diagnosis and trouble shoot for excessive smoke, engine overheating and abnormal noise. (ASC/N1420)
Carry out Servicing of fuel tank. (ASC/N1420)
Carry out overhauling of steering and suspension system. (ASC/N1420)
Overhauling front and rear wheels, brake. (ASC/N1420)
Overhaul automatic/manual transmission of two and three wheeler. (ASC/N9428)
Overhaul AC generator. (ASC/N9429)
Check ignition circuit for proper functioning. (ASC/N1420)
Overhaul the LPG/ CNG fuel supply system and check exhaust smoke. (ASC/N9430)
Carry out servicing and maintenance of Electric two and three wheeler. (ASC/N9431)
Carryout survey of fuel injection system components. (ASC/N9432)
Read and apply engineering drawing for different application in the field of work.
Demonstrate basic mathematical concept and principles to perform practical operations. Understand and explain basic science in the field of study.
 Machineries and Equipment Handled by the Trainees:
Two Wheeler – Bike Engine / Three Wheeler – Auto Engine, cut section model in 2&3 wheeler engine.