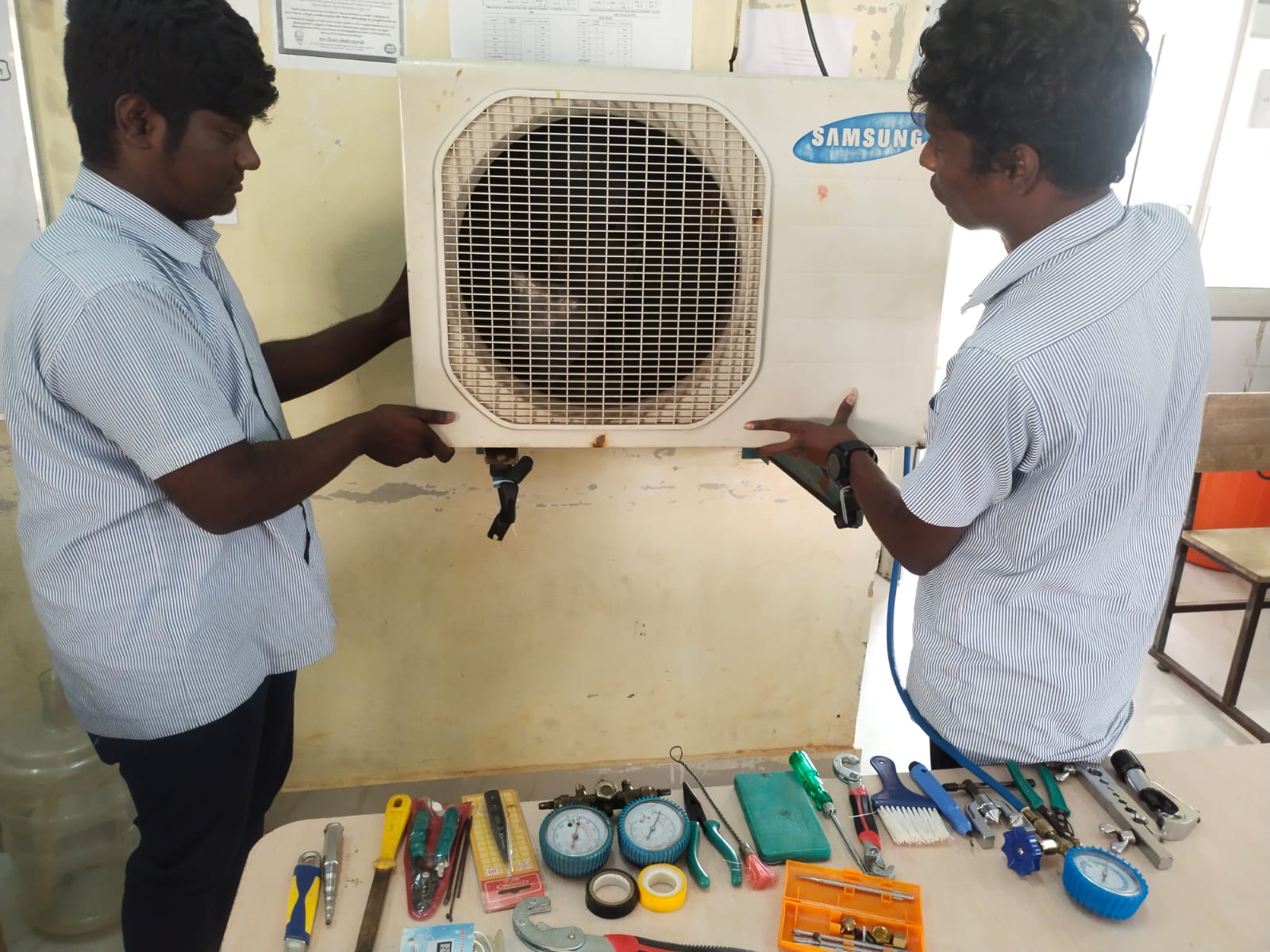 Two Year – Engineering – NSQF Level-4
Professional Skill Attained by the trainee through practical training at ITI's
Installation and Service of Split AC / Windows AC
Leak testing & GAS Charging in CAR air conditioning
Installation and service of Water Cooler , Bottle Cooler and Deep freezer
Service , Operate and test electrical controls of Ice candy & Ice cube Plant
Commissioning & troubleshooting of package AC
Check and Service of VRU/VRF system.
Specific Learning Outcome from the Trainees
FIRSTYEAR
Identify trade related hazards and safety procedures following safety precautions.
Produce fitting jobs as per drawing (Range of operations: marking, sawing, filing, drilling, reaming, taping and dieing etc.).
Produce Sheet metal components (range of operation – marking, metal cutting, bending, riveting and soldering etc.).
Identify electrical safety. Join different wire, measure power, currents, volts and earth resistance etc. Connect single phase, 3 phase motors i.e. star and delta connections.
Identify the electronic components and their colour code i.e. transistor, capacitor, diode, amplifier, I.C and able to work soldering.
Perform gas welding, brazing, soldering observing related safety.
Identify RAC tools and equipment and recognise different parts of RAC system. Perform copper tube cutting, flaring, swaging, brazing.
Test mechanical & electrical components. Perform leak test, vacuuming, gas charging, wiring & installation of refrigerator.
Identify electrical and mechanical components of a refrigerator.
Test compressor motor terminal, start compressor Direct with relay & without relay, technique of flushing, leak testing, replacing capillary & filter drier, evacuation & gas charging.
Check components of frost-free refrigerator (electrical / mechanical), wiring of frost-free freeze & air distribution in refrigerator sector. Leak detection, evacuators & gas charging.
Dismantle, repair and assemble hermetic, fixed and variable speed compressor, and test performance.
Identify the terminals of sealed compressor and their wiring and measure current, volts, watts and use of DOL starter with different types of motors.
Perform selection of Hermetic compressor for different appliances, starting methods, testing controls & safety cut out used in sealed compressor.
Identify the components of control system of Inverter A.C and wiring of control system
Perform servicing & de-scaling of condenser (internals &externals) used in different appliances
Perform fitting & adjustment of drier, filter & refrigerant controls used in different refrigeration system.
Perform servicing of different evaporator used in different appliances.
Carry out Recovery and Recycling of Refrigerant used, alternative of CFC, HFC re-cover, transfer & handling of gas cylinders.
Retrofit CFC/HFC machine with ozone friendly refrigerant with understanding of the compatibility.
Pack thermal insulation and prevent cooling leakage.
Install window AC, test Electrical & electronics components & Fault diagnosis & remedial measures.
Perform servicing of electrical & electronic control test, installation, wiring, fault finding& remedial measures of different split AC.
Perform servicing of car AC. Fault diagnosis & remedial measures
Read and apply engineering drawing for different application in the field of work.
Demonstrate basic mathematical concept and principles to perform practical operations. Understand and explain basic science in the field of study.
SECOND YEAR
Carry out servicing, dismantling, checking different parts of different types of commercial compressor, re-placing worn out parts, Check lubrication system. Assemble & check performance.
Perform servicing of different types of water-cooled condenser.
Perform servicing and performance test of Cooling tower
Conduct Servicing, backwash & re-generate Water treatment plant of circulating water.
Perform Fitting of expansion valve, adjustment of refrigerant flow according to heat load.
Perform servicing of evaporator & chillers.
Carry out servicing and retrofit of Water cooler and dispenser.
Service, retrofit of visible cooler and bottle cooler and test performance.
Conduct servicing of deep freezer and test performance.
Install, service, repair, gas charging and testing performance of Ice Cube machine.
Repair, servicing & retrofit of ice candy plant.
Perform servicing of Ice plant and evaporative condenser.
Perform Servicing and preventive maintenance of walk in cooler & cold storage.
Study psychrometric chart and measure psychrometric properties using psychrometric, anemometer i.e. DBT, WBT, RH, air flow etc.
Perform servicing of motor and blowers used in different air conditioning system.
Construct, install, pack thermal and acoustic insulation of different air ducts.
Perform servicing and maintenance of different types of air filters.
Perform servicing, installation, fault diagnosis and remedial measures on Package AC with Air cooled condenser.
Carry out Servicing, installation, fault diagnosis and remedial measures in Package A.C. with water cooled condenser.
Identify the various components of central AC test electrical components and make wiring. Servicing of A.H.U, damper, check air flow, De-scaling of condenser and CT servicing.
Pump down the system, top up oil and gas and check temperature and pressure.
Identify components of DX system. Test components, make wiring of DX system. Test leak and evacuate, gas charge the system and check the performance. Maintenance, trouble shoot and operate the plant.
Identify the different parts of VRF/VRV system, check and service VRF/VRV system.
Identify different parts of indirect or chillers system. Check components and make wiring, leak test, evacuate and gas charge/ top up. Servicing the plant and trouble shoot.
Identify chilled water pipe line. Servicing of dampers, FCU and water control valves.
Troubles shoot both Central A.C. plant DX and indirect system. Check different control system, installation of other major components, servicing of all parts including cooling tower and water treatment plant.
Perform Servicing, fault diagnosis, repair and maintenance of mobile A.C. leak test, evacuation, gas charging, check magnetic clutch and make wiring. Test performance after start.
Perform preventive maintenance of different plants. Maintain log book based on daily operation.
Read and apply engineering drawing for different application in the field of work.
Demonstrate basic mathematical concept and principles to perform practical operations. Understand and explain basic science in the field of study.
Machineries and Equipment Handled by the Trainees:
Basic Refrigeration and Air Conditioning entire products of appliances and commercial R&AC Equipment